Education & Outreach
Teaching
Professor Lu currently teaches the following courses:

BMEN E4501x Tissue Engineering, I: Biomaterials and Scaffold Design 3 pts. Prerequisites: BIOL C2005-C2006; BMEN E4001-E4002.
An introduction to the strategies and fundamental bioengineering design criteria in the development of biomaterials and tissue engineered grafts. Material structural-functional relationships, biocompatibility in terms of material and host responses. Through discussions, readings, and a group design project, students acquire an understand of cell-material interactions and identify the parameters critical in the design and selection of biomaterials for biomedical applications.
This course is also available via Columbia Video Networks (CVN).
BMEN E3820x Biomedical engineering laboratory, II 3 pts.
Statistical analysis of experimental measurements: analysis of variance, power analysis. Circuit implementation of nerve conduction, alginate bead formation, mechanical testing and optical strain analysis, galvanotaxis, image segmentation and analysis of cells, computer aided design, library resources.
Outreach/Community Service
Society of Women Engineers (SWE)
Society for Biomaterials (SFB) Student Chapter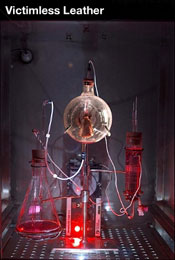 Tissue Engineering and Art - We continued to assist Oron Catts and Ionat Zurr of Symbiotica on thier work in an exhibit entitled "Corpus Extremus (LIFE+)", showcased at the EXIT ART gallery in New York City.
NSF GK-12 Fellowship Program, Columbia University.
Goldman Sachs I-LEAD Minority Scholars Program
Ronald E. McNair Fellows Program
Summer Research Internship for Lang Minority Medical Scholars, Columbia University
NJIT BIOMEMS Summer Institute program (NSF-NIH)